MALOSSI PRESENTS ITS NEWS FOR 2015 AT THE EICMA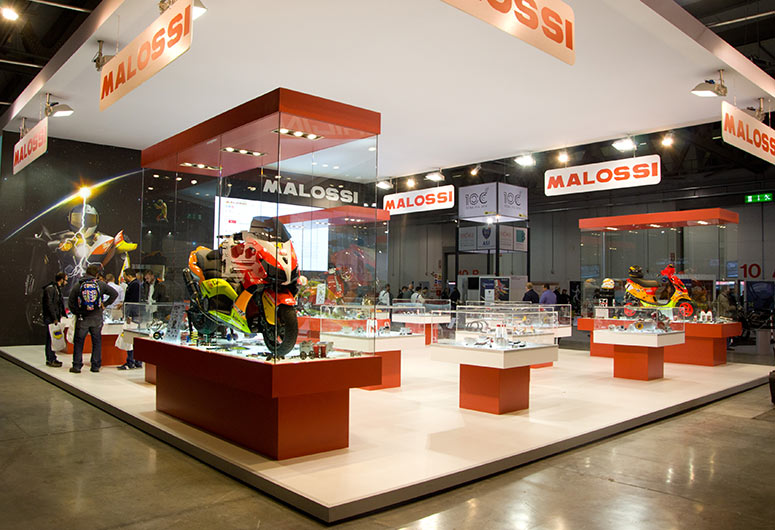 Published on
The International Eicma show in Milan has just concluded.  Many new products were presented by MALOSSI during the exhibition dedicated to the world of  bicycle and motorcycle.
Let's start from the world of racing, to which the display windows with Piaggio Zip SP and Yamaha T-Max 530 were dedicated. There are great news for small-displacement scooters with the introduction of the new RC-ONE crankcase, designed and produced to house the new 94cc cylinders, whose internal scheme was shown for the first time during the EICMA. The new product range of MHR Team Flanged Mount cylinders also features the new  70cc engine with seven ports. Both cylinders are made to be installed exclusively on Malossi crankcases, for which they were specifically designed.
MALOSSI officially presents the  new exhaust system for Yamaha T-Max, made of fine materials (aluminum, titanium and carbon) and strengthened through years of competitions: it is now shorter, sportier and with BLACK casing.
Red anodized , instead, is the colour of MHR Intake Horns, the new MALOSSI air horns designed through fluid dynamics studies and machined from a solid block of ergal.
Concerning the VESPA world, MALOSSI has proudly presented  the new cylinder for ET3 125, now brought to 130cc. It is a real MHR cylinder, made of aluminum, which renews and develops the concepts introduced by MALOSSI into the Vespa world, such as the intake to cylinder with the new and refined manifolds. Besides this,  we have the new MHR cast-iron cylinder kit for VESPA PX125, displayed together with the ENGINE CASE distributed EXCLUSIVELY by MALOSSI. These cylinders are supported by the new Sport, MHR and TEAM CLUTCH KIT, which ensure better sprint and clutch performance.
Great attention was also given to the new components of the 4Stroke range destined to four stroke scooters with the renewed 218cc cylinder, the same used  in SuperScooter 4Stroke Trophy, already winner  in the 2014 racing season. Also cylinders belonging to the i-Tech Maxi range for engines from 50 to 300cc were improved, as well as the 4Stroke TRANSMISSION product range, even more performing and customizable.
An important return into the world of two stroke 50cc scooters is that of MALOSSI WILD LION, a memorable exhaust system which now is back in full black casing, completely homologated for road use, together with the new MALOSSI FLIP, whose look recalls the exhausts intended for racing, and brings the same aggressiveness even on the road.
The presentation video of malossi.com realized by Michele "enko" Costa and presented at the EICMA