7.1 Logo: history of an evolution Logo 7.1

Published on
At Malossi firm 7.1 logo is born: a new brand corresponding to a complete set of oils conceived to go hand in hand with technical improvements of two and four stroke engines.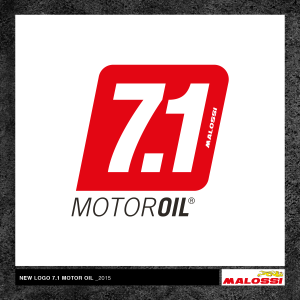 We have preferred identifying, as best we can, the new line of lubrificants proposing the new logotype "7.1 Motoroil", with a restyle of image especially studied in order to cast light to the evolution of Malossi' oils.
Our products are for lubrification and they are actually complete and in position to provide answers for any need, thanks to some new entries such as racing filter oil full synt, developped to increase air filters' efficiency.
As to the restyling of the image of Malossi official logo, even this time we have taken advantage of Michele Enko Costa' s collaboration, who describes his work in this way:
New 7.1 Malossi logo is inspired to the past, to the era of engines without electronics, where the smell of heat oil was a unmistakable feature. Coats of racing motorcycles had and had to be very clear: just at a glance , drivers and team had to be recognized.
We have been reliving the good old days, precisely because that experience still strongly characterizes us today: starting from a retro design – apparently up to old motorcycling characterized by topographies of posters in movable characters – we have reached a basic and immediate graphic image, but with a long story to account.
A real symbol of evolution.
Despite its obvious simplicity, new 7.1 logo hides a deep analysis, just like all other products of ours: details, experience and the continual put oneself to challenge make the difference.