Homologated RX Black exhaust systems for maxi scooters: a concentrate of technology

Published on
We are pleased to announce the new homologated RX Black exhaust systems for maxi scooters!
It's a new line of homologated exhausts, suitable for a wide range of engines (up to 400 cc).
A genuine concentrate of technology, but with a very reduced weight: an RX Black exhaust weights approximately 3.5 kg only! This weight reduction may even reach 3 kg depending on its application.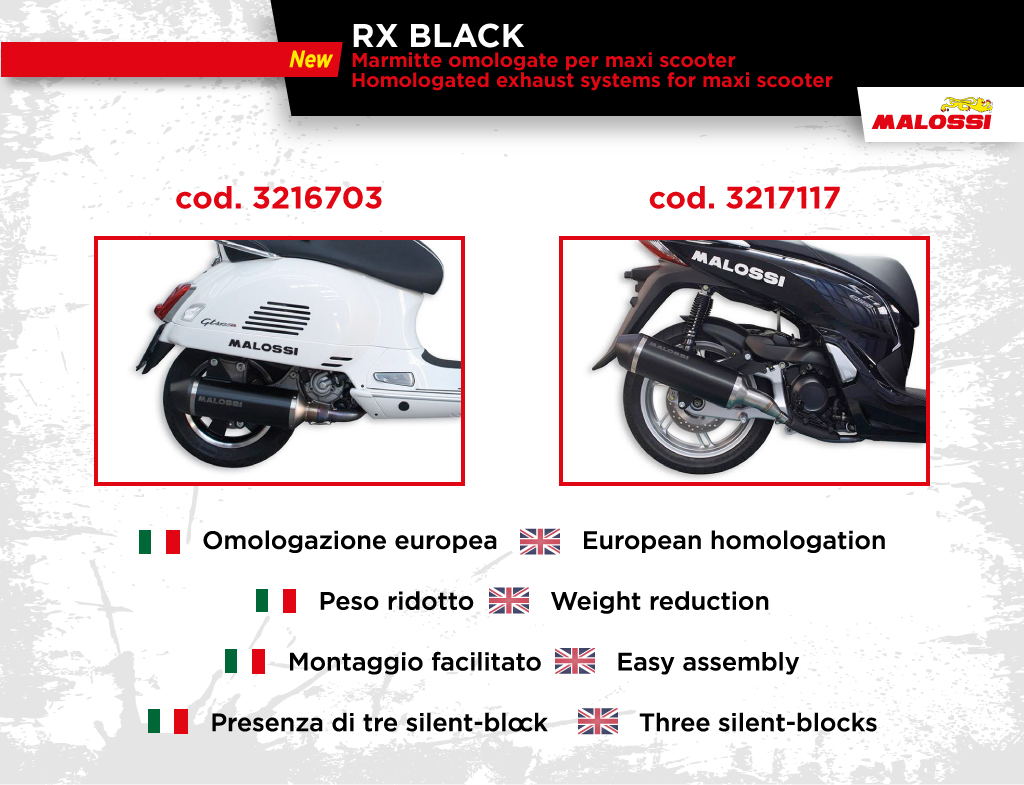 Internal components and DB killer were completely re-designed in order to achieve the best performance, while keeping noise levels within legal limits; vibrations are reduced with three silent-blocks, and assembly is extremely simple.
Here the technical details:
European homologation

Aluminum alloy silencer with black anodized finish,manifold and bracket in stainless steel alloy

End cap made of carbon fibre

Weight reduction to about 3.5 kg

Easy assembly thanks to a shaped plate and three fasteners on the silencer

Internal parts and DB killer entirely re-designed

Reduced vibrations and shocks from the swingarm thanks to three silent-blocks
On the Malossi Store you can also find our DB Killer: catalytic converters enable to obtain the homologation against air pollution.
RX Black exhaust systems for maxi scooters are a Malossi product totally made in Italy. They are product for Vespa and Honsa. Find out the compatible models in our product specifications on Malossi Store!
RX Black sono un prodotto Malossi completamente made in Italy, disponibili per Vespa e ora anche per Honda. Scopri i modelli compatibili all'interno della scheda prodotto sul Malossi Store!
Vespa: 3216703 – DB KILLER: 3217012B                                     Honda: 3217117 – DB KILLER: 3216715B; 

3216704B
Find out all the products for you motorcycle: surf on the Malossi Store!