Promotional advertise for Malossi branded gadgets "Malossi Griffe": discover all products reduced of 20% on Malossi Store

Published on
Not only Spring comes with March, but also so much reductions on Malossi Store! In fact, on our online store www.malossistore.com, and just for March, you can find some of accessories branded Malossi Griffe, reduced of 20%!!!
Here are all promotion goods: to show off a racing look!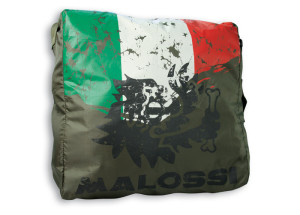 Of green army color, with adjustable shoulder strap and inner pocket, this duffel bag could not be complete without our Lion printed upon. The additional characteristic is Ripstop cloth used for manufacturing. It is composed of nylon yarn that makes it very resistant to rifts and lacerations. It is so light to be easily folded when it is not used.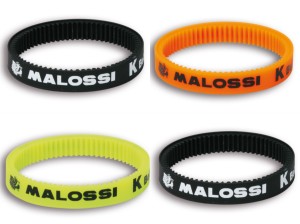 This bracelet is available in three different colors (orange, yellow and black). It is in silicon and reproduces our famous K Belt belt, diamond point of all racing drive belts and result of decades of experience and in the search of the best performance in agonistic field.
Size of bracelets is : 202x12x4mm.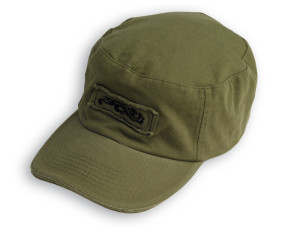 It is military for style and color. After the arrival of good weather, it is an inevitable partner to take refuge from sun, but even from rain in raining days when spring starts.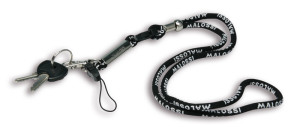 It is provided of a key ring, badge chain pincers and hook for mobile phones. With Malossi badge chain, everything is kept on hand!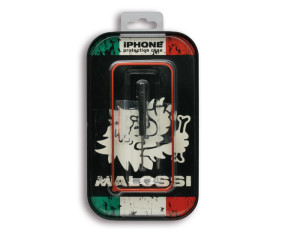 With our red aluminium bumper, which has also our silk-screen printed logo, you can personalize and, at the same time, protect, your 5 or 5s iPhone.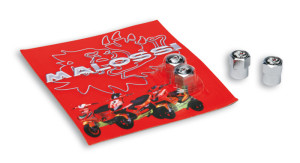 If valve of tires' inner tube hardly screws or unscrews , this could be caused by wear , but also by dregs of powder and mud. With our protection caps, you will avoid that powder sediments around the valve or in thread, protecting it over time.
2 GRIPS with Malossi logo
6914059.Y0 Yellow. Mod. without side fastening
6914060.Y0 Yellow. Mod. with side fastening
6914059.R0 Red. Mod. without side fastening
6914060.R0 Red. Mod. with side fastening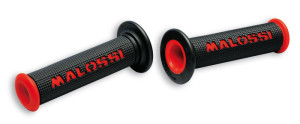 Our control knobs can be applied on all vehicles. They are characterized by 2 components, 2 hardnesses, 2 colors. Their surface is composed of micro-pyramids in prominence and a base knob produced in anti-torsion semi-rigid material. Malossi knobs are produced with refined and non-allergenic materials.
They are super-resistant to atmospheric agents ( UV rays and ozone included ) and have an ergonomic structure and profile. They include 2 drawns for haywire for a perfect tightening.
You will find for free in each package a card of Malossi MINI stickers BLACK and SILVER!
2 GRIPS with Malossi TRIBAL logo 
6914574.W0 White. Mod. without side fastening
6914575.W0 White. Mod. with side fastening
6914574.B0 Black. Mod. without side fastening
6914575.B0 Black. Mod. with side fastening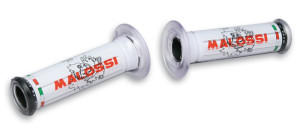 Malossi personalized knobs can be applied on all vehicles.
They are produced with very high quality materials which also resist to atmospheric agents (UN rays and hozone). They have an inner flange which is strengthened to support hands and neutralize vibrations. Their outer surface is smooth to guarantee a high safety, while their form and structure are designed to be extremely anatomic.
Let's take advantage of this, reductions will be valid up to 31 March 2016 and only on www.malossistore.com!