YOU ARE NEVER TOO FAR, WHEN YOU ARE UNITE IN PASSION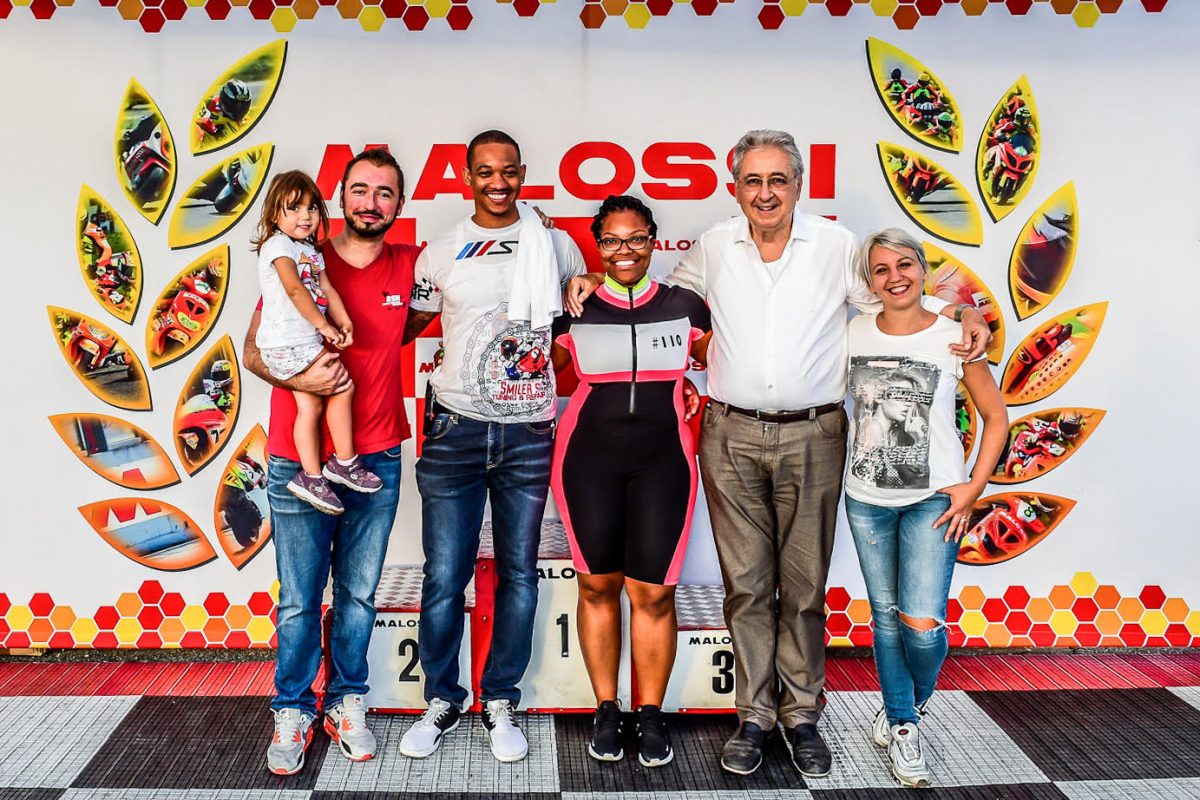 Published on
Welcome to Trofei Malossi Jeneko and Tatyana! It's been a very long journey from Bermuda… is it your first time in Italy?
Yes, this is our first time in Italy as we decided to take a vacation together! Rome and Florence, Italy were on our list of destinations to go so we said 'why not, let's experience Italy"!
 Jeneko, we hear that your visit to Trofei Malossi race in Magione was a surprise for you: how did you react? How was your day?
When we arrived, I was a little confused because I thought we were going to buy tickets at the gate but the security guard asked us if we were from Bermuda. My girlfriend (Tatyana) told me what was about to happen for the entire day and all I did was SMILE because I was speechless!
 It was amazing! I was excited to be physically at a Malossi race as well as having access to the paddock, being able to meet all of the pilots and mechanics, having lunch, doing interviews, taking pictures, and best of all, meeting and being around the Malossi family!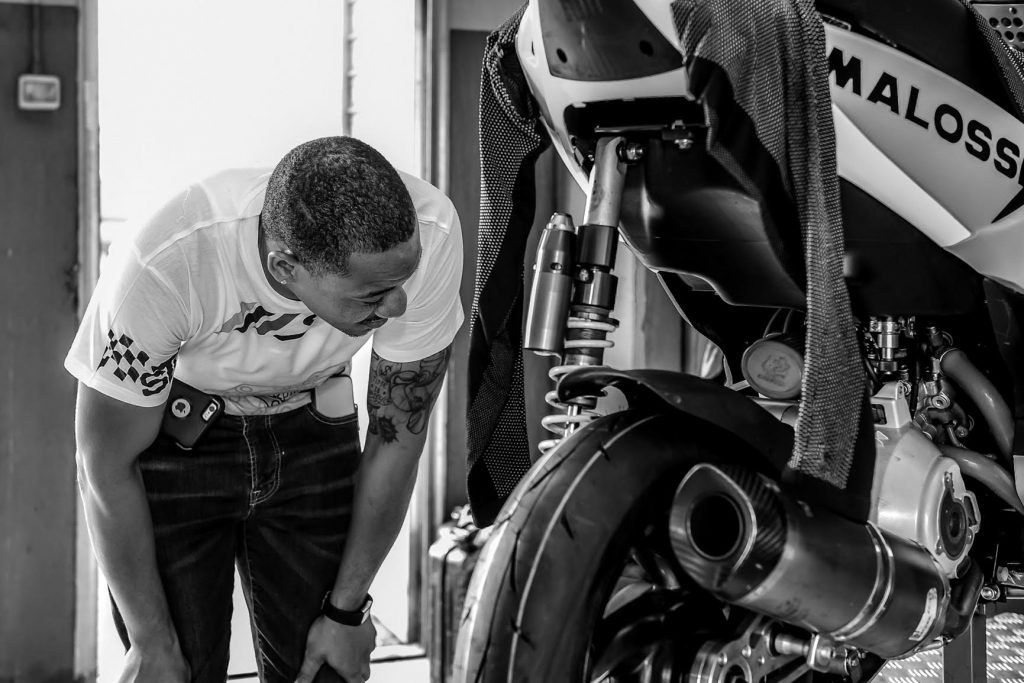 What impressed you the most during your visit to the paddock and to the track?
What impressed me the most is the technical inspections that occur before the race starts and finishes. I found it very interesting that all of the bikes in the Trofei Malossi have the same parts and all go the same speed, to give each pilot a fair chance at winning the race (i.e. it all comes down to the pilots skills and techniques). This is something that we do not follow in Bermuda. I also liked the idea of having a tire center where you can go and get your tires replaced or assistance if you do not have a mechanic.
In addition, I thought it was really cool that if a pilot could not make a race for any reason, that pilot can transfer his points to another pilot as long as the second pilot rides the same bike as the pilot who cannot make the race—this way you do not lose your position in ranking and you can still earn more points.
So Jeneko, tell us something more about your career as a pilot…
I started riding in 2006, when I was 12 years old and I rode a scooterino dream bike. In 2007, I switched bikes and began riding a blue Piaggio ZIP SP 70 with all Malossi MHR parts where I was the only 13 year old racing against grown men. After racing on the Piaggio ZIP SP 70, I continued to ride this bike in order to perfect my skills and become a better pilot. In 2009, I was sponsored by Added Speed/Sub-Zero Racing Bermuda where I rode a red Piaggio ZIP SP 70.
In my career of racing, I have had practice on numerous other bikes ranging from 80cc to 600cc.
I have also had the opportunity to travel to California and participate in a riding camp called M1 GP. I learned more about maneuvering the bike when taking corners, breaking points, and finding the best racing lines.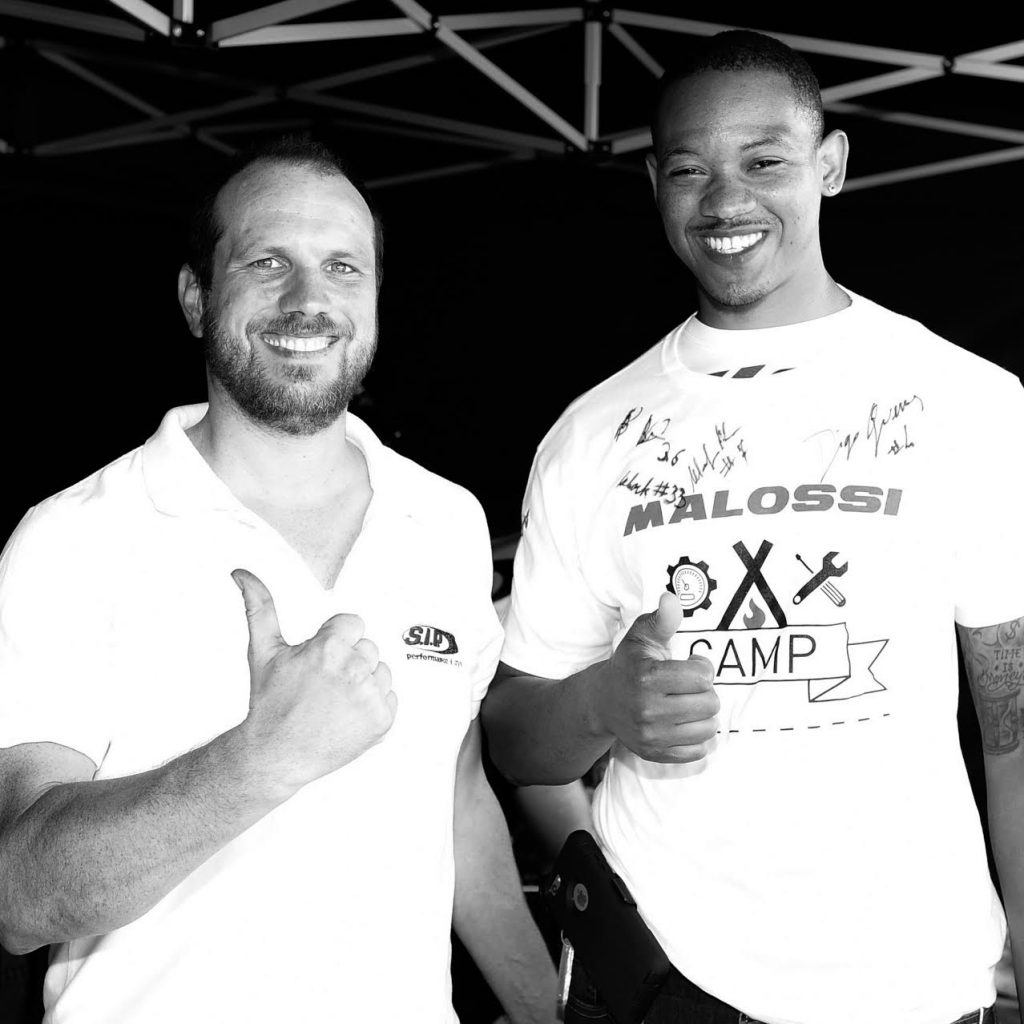 How long have you been a Malossi fan?
I have been a Malossi fan since I was 11 years old. My father (Boris Place Jr.) is a mechanic as well and I grew up watching him fix bikes. I remember my father having Malossi stickers all over his tools box and I wanted to have some stickers too because they looked cool. From there, I invested time and money into the Malossi Brand by reading up on Malossi and purchasing parts for both my racing bikes and my personal bikes. Over the years, I have continued to use Malossi because I consider it to be a 'high quality' brand. When individuals ask me what brand of parts do I recommend, I tell them with no doubt to purchase Malossi!
Which type of scooter/moped do you drive? Which Malossi component do you mount on it?
In Bermuda, I have numerous scooters/mopeds that I ride on the main road. Since I am a mechanic by trade, it is essential for me to have more than one scooter/moped.
Among the many scooters/mopeds I own in Bermuda, there are 2 with all Malossi parts. They are:
Piaggio Carnaby 125cc (in Candy Apple Red)
Honda SH 125cc (2007 model in Purple)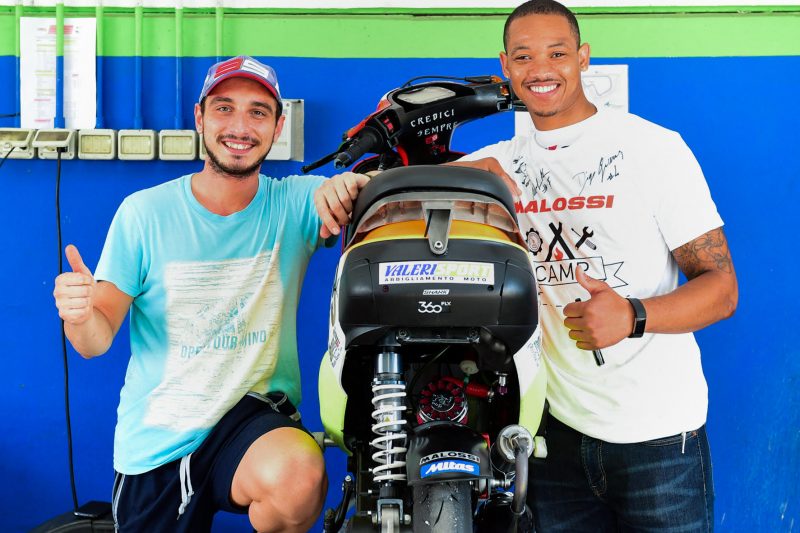 Are Trofei Malossi famous in Bermuda?
As far as racing goes, it is pretty popular in Bermuda as we have the BMRC (Bermuda Motorcycle Racing Club) in which individuals pay a yearly membership fee and are allowed to ride in the following classes: mini-bikes juniors, mini-bike open, 70GP, 80GP, scooter class, 125GP, stock but modified, formula class, and 600GP. Almost all of the riders have at least one Malossi part or sticker on their bikes!
 As far as on the main roads of Bermuda, a lot of individuals have Malossi stickers on their helmets, bikes, and cars. Individuals also buy windscreens and transmission parts for their licensed bikes.
What are your next plans for your holiday in Italy?
Since Tatyana and I did not have enough time to do everything we wanted to do, we would like to come back next year to visit the Malossi Manufacturing Plant to Bologna, Italy. In addition, we would also like to come and be a part of to the 2019 World Malossi Day event!