NEW ON MALOSSI STORE | Cast-I-cylinder Kit for VESPA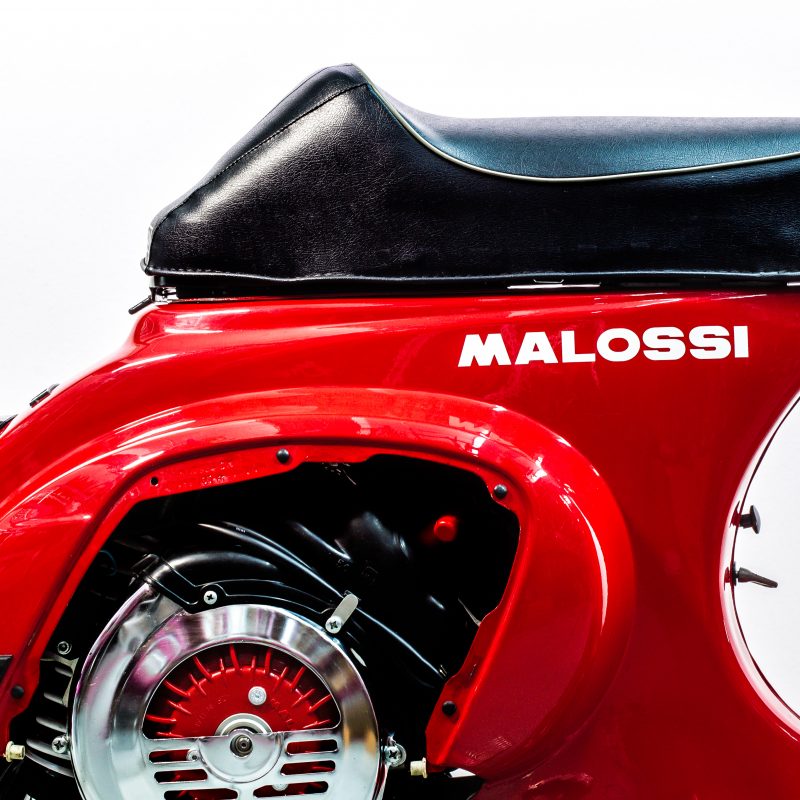 Published on
We are pleased to announce the new CAST-I-CYLINDER KIT Ø 61 VESPA COSA – PX125-150, available now on Malossi Store!
Constantly refined over the years, the legendary cast-iron cylinder kits for Vespa have now a new code, after undergoing further upgrade concerning above all the main and rear transfer ports, the exhaust port and intake port, this latter considerably increased in its dimensions.
It is the one and only cylinder kit of its kind using an o-ring as sealing gasket between head and cylinder, in order to guarantee better sealing and heat dissipation.
By improving torque at low RPMs, this cylinder kit further increases performance.
This solution, which comes straight from the world of competition racing, guarantees maximum hold and maximum possible heat exchange, eliminating almost all kinds of seal and so removing all barriers between the head and the cylinder.
The head has been heavily revised, starting from the cooling fins, which are now curved and more winding, exposing a greater surface area to the air and maximising the cooling effect. The head fins have also been inserted into the cavity between the head and the cylinder to create significant air flow, capable of further improving operating temperature.
The very structure of the head has been revised, increasing the mass to obtain record rigidity, bringing together lightness with maximum possible cooling fin length, and making most use of space freed by the conveyor.
The result is pleasing to the eye for its unique and original shape thanks to the precise positioning of the fins, the design of which only stops when absolutely necessary, at the holes for inserting the fixing screws.
With this development Malossi technicians went beyond all expectations once again!
Here the technicians
technical features:
Cylinder
Material: special self-lubricating, wear-resistant, highly refined cast iron alloys, obtained by Shell Moulding gravity die-casting.

Machining: on numerically controlled high precision machine tools.

Recalculated and increased heat exchange surfaces.

Exhaust and transfer ports designed and tuned for maximum thermodynamic performance.

Dimensional and surface finish quality control performed according to Malossi's internal specifications.

Cylinder and piston selected for a 100% fit of 0.010-0.005 mm.

Checking of all the seals carried out.
Piston
Material: special aluminium alloy with high silicon content and low thermal expansion.

Machining: on numerically controlled machine tools.

Lightened and strengthened.

Heat exchange surfaces increased.
Piston rings
Piston rings in very strong modular cast iron with ground, wear-resistant, hard chrome metal-spray coating on the contact surface.
Head
Material: special die-cast aluminium alloy.

Geometry of heat exchange surfaces recalculated and increased.

Machining: numerically controlled high precision machines with diamond tools.

Surface rust prevention treatment.

Viton Head Gasket.

Hemispheric combustion chamber with centred squish and spark plug.