New Malossi products for Vespa: tradition at the service of innovation for a completely Italian myth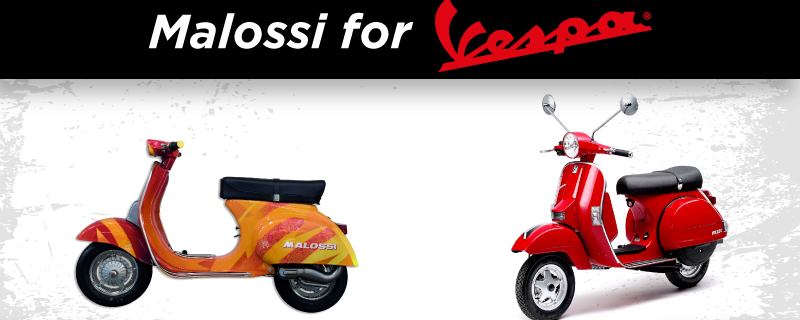 Published on
Even if it shares some elements with the motorcycle world, for example gears, Vespa can be considered as scooters ancestor, as well as one of the Italian indisputable symbols in the world.
For this reason, we have always committed to design and create products for Vespa that can enhance at most the overall Italian quality!
Even today, Malossi tradition devotes itself at the service of innovation. Infact, on the official store www.malossistore.it 2016 new products devoted to Vespa are available: primary gears HTQ for Vespa Px and the multiple gear for Vespa!
All components are realized with materials in conformity with standards imposed by our technicians and final manufacturing is made on numerical control machines. Mechanisms are subjected to a thermal-chemical treatment of cementation at 900°C which confers the demanded hardness and strength. Finally, dimensions and quality of mechanisms are checked on Zeiss tri-dimensional control machines.
Here shown below technical features of each model.
---
MALOSSI HTQ PRIMARY GEARS FOR VESPA PX
6716720
6716721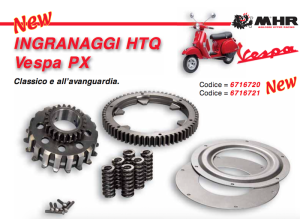 They are coupled two by two in order to respect the correct operating clearance. Malossi HTQ primary gears for Vespa PX are the most precious gift for a real enthusiast.
Infact, HTQ Malossi components gather the heritage of our first design of mechanisms produced in our factory of Calderara di Reno, between the end of the 80's and the beginning of the 90's.
They have been completely redesigned and use a configuration at straight teeth, instead of the standard helicoidal ones.
We have hardly worked in order to guarantee an exceptional softness, which has been reached thanks to special workings on teeth and on relative contact surfaces which are carefully refined in an obsessive way and checked at the hob.
---
MULTIPLE SPEED GEAR FOR VESPA
6716696
6716207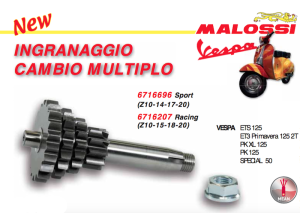 Considering Vespa is devoid of pinion and crown, and considering its wheel base can not be changed, it is particularly difficult to make necessary changes in order to support with the right ratios each increase of performance..
In order to solve this problem, we have created new multiple transmission mechanism which is characterized by a different and more proper ratios of gears.
Produced in two versions (Sport and Racing), Malossi multiple transmission mechanism is perfectly interchangeable with the original one, does not require any change at its housing and is produced for Vespa models from Special 50 up to ET3 125 one.
Malossi designers have analyzed two different ratios for second, third and fourth gear , specifically calculated for motors which are more characterized to stroll (as regards version Sport 6716696 – Z10-14-17-20 cal15) or for race motors (as regards version Racing 6716207 – Z10-15-18-20 cal 15).
Furthermore, thanks to our obsessive search of the best tooth shaping, it is able to work perfectly in combination with all other mechanisms. In fact, the choice of this precise criterion has made steadiness of wheel base possible. This high technical solution guarantees a remarkable reliability and a reduction of the gear noisiness.