Mr. Dennil Sagita, Malossi dealer for Indonesia, visited our plant in Calderara di Reno

Published on
In the last weeks, we had a very welcome visit of Mr. Dennil Sagita, Malossi dealer for Indonesian market.
He had the opportunity to "explore" our plant and to ride Sprint Vespa during Malossi Trophy.
Here there are his first feelings and hunches: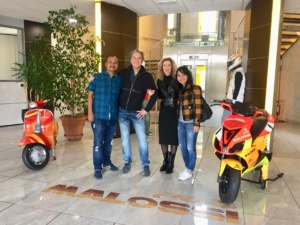 – How did you know the Malossi brand?
I knew the Malossi brand through internet forums in 2011.
– How long have you been Malossi's component retailer?
I've been Malossi retailer for almost 5 years (since 2012).
– Which markets do you supply now?
So far, I supply the Malossi brand to all Indonesian markets.
– What is the most requested component by your customers?
The most requested components, based on selling turnover and performace experience, are maxi delta, variators, ignitions, complete cylinder kits, exhausts, and many others…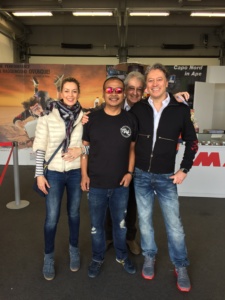 – What did you like the most during your visit here in Malossi plant?
During my visit in Malossi plant, I was quite impressed. Malossi is the biggest and more professional company I've ever known; Research and Development departement follows the newest up to date information to create new components and parts. Moreover, Malossi has a professional management to capable of handling any kind of supply order.
– Tell us something about your experience riding on a circuit in Modena!
The experience was great and fun! Malossi Sprint Vespa for race is so powerful and stable. The handling is also quite comfortable and easy flexible because Malossi not only cares about engines, but also about suspensions. The most important thing is that I might be the first (or maybe the one and only) asian man who could ride Sprint Vespa in Malossi Trophies. It was such an unforgetable experience for me anyway!