You will go smoothly like the oil 7.1 with Malossi | Racing Full Synt 2T

Published on
Anything but a perfect lubrication is the most important thing for the correct operation of a motor and its parts. This is the reason why we have developed a line of lubricants which have specifically been conceived to enhance technical features of our products.
Looking into lubricants available on the market, we have immediately understood the need of a complete and special line of lubricants, above all for two-stroke engines where motor oil play an active role during the combustion stage.
Our key strength has always been a long experience in the world of motors. Our oil 7.1 was born just from this experience focused on competitions: it is about a veritable brand for a complete range of lubricants conceived to sustain hand in hand all technical evolutions of two- and four-stroke motors.
Formulations of lubricants 7.1 are unique and their brand name is a veritable symbol in the world of races. All range has been conceived to guarantee both duration and performances to racing motors and to motors destined to road scooters, in all their conditions of use.
Racing Full Synt 2T is just generated by the brand 7.1 and we just talk about this today.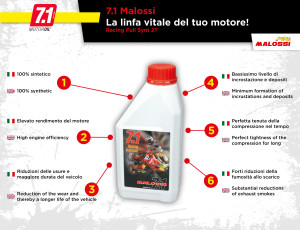 Totally synthetic lubricant, it is formulated with very high quality synthesis basis and by carefully chosen additives. In this way, it will provide very high performances. It is specifically formulated for racing vehicles with or without a separated oil mixer. Finally, we have to say that it never disregards the environmental safeguard.
The 2T oil Racing Full Synt specifically guarantees:
A substantial efficiency of the motor.
Reduction of exploitations and a resulting higher duration of the vehicle.
A very low level of crusts and deposits in the powder chambre and in the drain.
That segments are not glued each other and so a perfect hold of compression is guaranteed as time passes.
That smokes are strongly reduced during the drain.
In a steady evolution, 7.1 represents the boost for your performances, a shield of defense for your mechanical parts, it is simply the lifeblood of your motor!