Malossi Piaggio Ape World Championship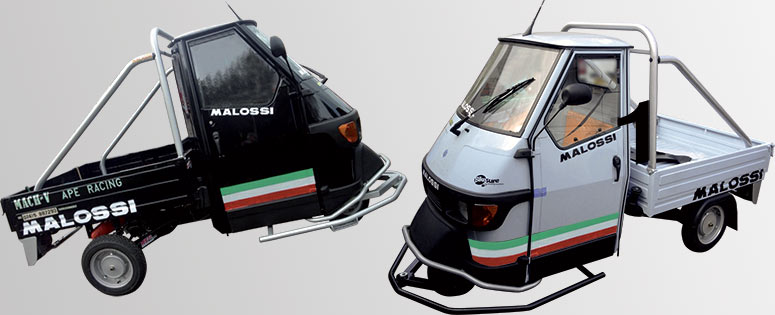 Published on
Malossi performance products have been chosen especially by Piaggio Commercial to power the Ape's that are used in the "Malossi Piaggio Ape World Championship".
At the 2013 Motorcycle Expo, VE (UK) had the great pleasure of having one of the Malossi powered Ape's on display. The Ape' inspired lots of comments from dealers, and also received major attention from the 2 and 4 wheel press.
With all of the Piaggio Ape' machines fitted with exactly the same:
Malossi 112cc 6 transfer cylinder kit,  Malossi 19mm reed valve carb kit, and Malossi "Power Exhaust" (codes: 3214431  and  3214464). The racing is close, as is to be expected of a one make series. The duration of the races is of a 1.5 hour race endurance format, consistency, reliability and driver prowess is the key to doing well in the series.
Over and above the performance parts supplied from Malossi, VE (UK) also made available their full range of replacement parts including clutches, crankshafts, cylinder spares, bearings and tools to all competitors, should teams have had a requirement for replacement spares.
Over the 2013 four races championship, machine reliability was excellent with the only problems being clutch cables and tyres, which in itself is a testament to the quality of the performance products manufactured by Malossi. The Malossi products were chosen especially for the race series to power the Ape' and promote the format of low cost, affordable motorsport.
Now for 2014 there is a six race championship with the added prospect of racing at night on the Rye House Circuit, just north of London. Designed as a Kart track, Rye House is ideal for the Ape series, with twisty corners and excellent facilities, it makes for a great day out racing.
Drivers over 16 years of age can compete, no licence is required and drivers can even hire a race Ape to compete on the day. Everything can be arranged at the Rye House circuit. Most teams are of more than one driver, some have four drivers, it's left to each team to arrange their own drivers.
The circuit is based at:
Rye House Kart Raceway, Rye Road Rye House, Hoddesdon, Hertfordshire, UK EN11 0EH.
Watch that video